From the farmer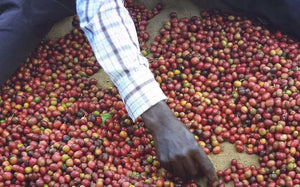 Most of the coffee in Kenya is grown by many small scale farmers with a few large estate farmers.
After cherry harvesting, farmers deliver coffee to the factory and it is sorted, graded and pulped the same day. Primary processing involves pulping cherry skins with clean water where great care is taken to ensure bean quality, through color and size evaluations.
Once coffee is sorted and pulped, it is fermented and slowly sun dried in two phases: wet to black (rapid) and black to white (slow). Parchment is turned continuously on drying tables to protect it from hot temperatures and to ensure even drying. It is dried to 10.5-11% moisture content before it is stored and then delivered to the mill.
---
Also in News